Werchter Boutique Tickets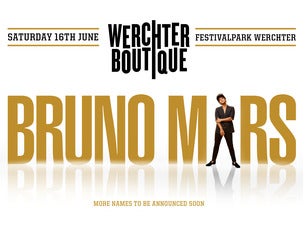 Full Line-up: Bruno Mars | Oscar And The Wolf | Years & Years | Jessie J | Tom Odell | DJ Rashida | Lil' Kleine

He does it all. Song writing, singing, dancing, headlining Werchter Boutique.Let's set this party off right! Bruno Mars, the multi-platinum superstar will be appearing at Werchter Boutique 2018 on Saturday the 16th of June at the Festivalpark in Werchter.

And there is more. Just like last summer, the day festival presents a parade of pop music's finest. The full line-up will be revealed later. Tickets go on sale on Friday 3 November at 9am!

Winner of several GRAMMY® Awards and nominated 20 times for the award, Bruno Mars is one of the best-selling artists of all time, having sold more than 171 million singles globally.

The most recent album by the singer, songwriter, producer, director, and musician, reached platinum and was highly praised by critics. Earning him an impressive debut with direct entry to the top of the charts Top Digital Albums and R&B / Hip-Hop Albums. Also, both the album and its lead single, "24K Magic," simultaneously reached # 1 on the iTunes Overall Albums and Overall Songs charts in the release week.

Bruno Mars latest single "That's What I Like" recently reached number four on the Hot 100 charts, earning the artist his 14th top 10 hit and his #1 Hot R&B Songs chart. Live this master entertainer and perfectionist fronts a steaming hot band. He is THE pop star of the 21st century.
Sorry, no results found for 'Werchter Boutique'
Browse by Category