Walking With Dinosaurs Tickets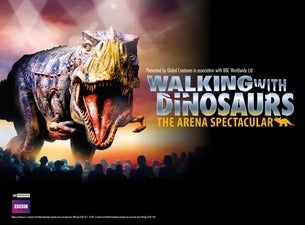 Na voorstellingen in 250 steden en meer dan 9 miljoen toeschouwers komt Walking With Dinosaurs – The Arena Spectacular
(Nederlandstalige show) eindelijk terug naar Brussel, in Paleis 5!

Dit verbazingwekkende en majestueuze spektakel neemt u mee 200 miljoen jaar terug in de tijd, naar een vergeten wereld, waar u getuige zult zijn van de terugkeer van de grootste wezens die ooit onze aarde bevolkten.
Walking With Dinosaurs – The Arena Spectacular kostte meer dan 20 miljoen om te realiseren en combineert het vakmanschap en het talent van ontwerpers en wetenschappers. Samen creëerden ze de wereldberoemde hyperrealistische adembenemende creaturen, waaronder de Stegosaurus, de raptors en de verschrikkelijke Tyrannosaurus Rex! De grootste van allemaal is de Brachiosaurus, die maar liefst 11 meter hoog en 17 meter lang is! De dinosaurussen in de show ondergingen ook spectaculaire en kleurrijke veranderingen, gebaseerd op de laatste wetenschappelijke ontdekkingen, waaronder de veren die sommige soorten waarschijnlijk hadden. Zie ze stappen, hoor ze brullen en wees getuige van hun strijd om te overleven en te overheersen. Van de structuur van hun huid tot de flikkering in hun ogen, zal het quasi cinematografische realisme alle twijfel bij u wegnemen: de dinosaurussen zijn daadwerkelijk terug onder ons!
87 Evenementen voor Walking With Dinosaurs
87 Evenementen
Evenementen in

België

(3)
Walking with Dinosaurs - The Arena Spectacular (NL versie)

za

15:00
Walking with Dinosaurs - The Arena Spectacular (NL versie)

za

19:00
Walking with Dinosaurs - The Arena Spectacular (NL versie)

zo

11:00
Internationale evenementen
Internationaal
(84)