Total 24 Hours Of Spa Tickets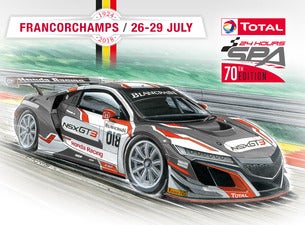 A legend! – Anniversary Edition

The 2018 edition of the Total 24 Hours of Spa, highlight of the Blancpain GT Series and the Intercontinental GT Challenge, will be more unique than ever. On Saturday July 28th the most popular event on the Belgian racing calendar will live its 70th start, with the most coveted of GT cars in the world all vying for the one of the most prestigious trophies on the motorsport planet. These thoroughbreds, driven by the best GT drivers in the world, will defend the colours of some of the most prestigious car manufacturers: Aston Martin, Audi, Bentley, BMW, Ferrari, Jaguar, Lamborghini, Lexus, McLaren, Mercedes-AMG, Nissan, Porsche...

The 70th edition will be all about the rich past of the event, which in 2017 saw its closest finish ever, with five cars battling for the win until the very last lap!
But the Total 24 Hours of Spa is not only a spectacular race, it is also a comprehensive support programme and the opportunity for the whole family to enjoy the events in the Total 24 Hours of Spa Village. Young and old will certainly appreciate the atmosphere, and on top of that they can also attend the exclusive concert on Saturday evening.

Children younger than 12, in the company of an adult, will have FREE access to the track.
Sorry, no results found for 'Total 24 Hours Of Spa'
Browse by Category