Liebherr Men's World Cup Tickets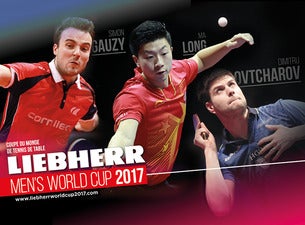 It's a rare show, an exceptional and unique moment for table tennis lovers: thanks to Philippe Saive and his strong and proven ability to organize such events, the ITTF World Cup comes back to Liège on 20-22 October 2017. This means a fantastic opportunity to admire the best players of the World in another way than television or computer screen.

Among the 20 players, the recent World Champion Ma Long, undisputed leader of the table tennis planet, with his outstanding list of titles, including the gold medal in the Olympic Games of Rio 2016. Next to him, the ITTF World Cup gathers all the Continental champions. We already know the name of one of them: Dimitrij Ovtcharov, winner of the last European Top 16 in Antibes (France) last February.

For the other champions, patience is needed as Asian and African Cup will take place in the next weeks. There is one thing for certain: only the best can shine on such continental competitions and be one the the 20 players to qualify for the World Cup. To get an idea of the level of play, a glance on the previous winners is very instructive: you will find all the great Chinese players among which the young prodigy Fan Zhendong, winner of the 2016 edition in Saarbrucken, but also Olympic champions Ma Long and Zhang Jike or Ma Lin and Wang Hao. The last European players to win this competition are Timo Boll and Vladimir Samsonov as unforgettable Swede champions Mikael Appelgren, Jorgen Persson and of course Jan-Ove Waldner. In conclusion, only the best players of the world can win this competition as Belgian public has got the chance to see it for three times in 2005 (Liège), 2008 (Liège) and 2013 (Verviers).

28 matches (best of 7 games) will be played with a preliminary stage involving 12 players divided in 4 equal groups of 3 players with all the members of a group playing each other. The top 2 finishers of each preliminary group then join the top 8 players in the second stage of competition which consists of a knockout draw: a total performance during 3 days of high level table tennis.
Sorry, no results found for 'Liebherr Men's World Cup'
Browse by Category