DS Brussels Fashion Days Tickets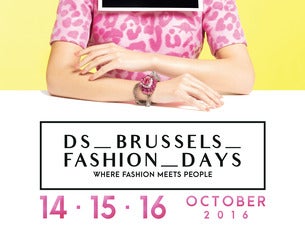 Mark your calendars, DS Brussels Fashion Days are coming back for the fifth year in a row. This edition will be unique, with new energy, big challenges and new partners. This prestigious spot, which is Square-Brussels Meeting Centre (Mont des Arts), will host for the second time our fashion event.

Some of the attending artists are the talents of tomorrow, the new wave, while others have already been established for years. However, many of the designers who dress us up every day through their work as stylists, milliners, couturiers, model makers, graphic designers, silkscreen artists, fashion designers, leather artists, sometimes without us even realizing it, will be present. It's an opportunity to come and meet them, talk to them, discover their imagination, and why not purchase one of their beautiful creations.

The Programme
Four fashion shows with Belgian and foreigners creators, a Fashion Pop-Up Store presenting yong creators, a School Street where the public can meet the Belgian fashion schools, prestigious partners, a 100% fashion and glamourous afterparty on Saturday, a Fashion Talk inspired by Star Wars in collaboration with 4 fashion designers, a Fashion Brunch by Vins de Provence followed by a Fashion Film. And of course, there also will be food, drinks and of many stars in your eyes. Let's celebrate together all of our fashion talents and a sector which - always- needs your support.

Fashion is beautiful, fashion is Belgian!
Sorry, no results found for 'DS Brussels Fashion Days'
Browse by Category