Alcatraz Hard Rock & Metal Festival
Alcatraz Hard Rock & Metal Festival Tickets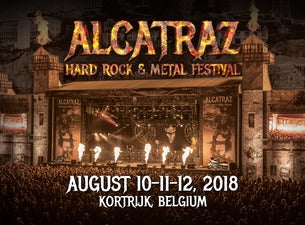 Alcatraz Hard Rock & Metal Festival 2018
Friday 10 - Saturday 11 - Sunday 12 August 2018

The cosiest Hard Rock and Metal festival again takes over the 'holy grounds' of domain Lange Munte in Kortrijk (Belgium). It is already the 11th edition of the festival! Alcatraz will once again be the place to be for all metal & rock lovers!

ON SALE - 02/12/2017
Combi tickets
Combi VIP tickets
Camping tickets

All other tickets are not on sale yet - more info to be announced soon.
12 Events for Alcatraz Hard Rock & Metal Festival
12 Events
Events in

Belgium

(12)
ALCATRAZ 2018 - Dayticket Friday 10/08

Fri
ALCATRAZ 2018 - VIP dayticket Friday 10/08

Fri
ALCATRAZ 2018 - Dayticket Saturday 11/08

Sat
ALCATRAZ 2018 - VIP dayticket Saturday 11/08

Sat
ALCATRAZ 2018 - Camper camping
ALCATRAZ 2018 - Combi VIP
ALCATRAZ 2018 - Dayticket Sunday 12/08

Sun
ALCATRAZ 2018 - Eagle's Plaza
ALCATRAZ 2018 - Motor camping
ALCATRAZ 2018 - VIP dayticket Sunday 12/08

Sun