Alcatraz Hard Rock & Metal Festival
Alcatraz Hard Rock & Metal Festival Tickets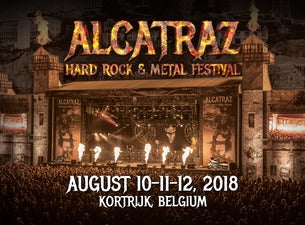 Alcatraz Hard Rock & Metal Festival 2018
Friday 10 - Saturday 11 - Sunday 12 August 2018

The cosiest Hard Rock and Metal festival again takes over the 'holy grounds' of domain Lange Munte in Kortrijk (Belgium). It is already the 11th edition of the festival! Alcatraz will once again be the place to be for all metal & rock lovers!

Friday 10/08
Prison Stage
Status Quo
Brides Of Lucifer
Dee Snider
Ross The Boss
Diablo Blvd.
The Quill

The Swamp
Bizkit Park
Amorphis
Venom Inc.
Suicidal Angels
The Atomic Bitchwax
Pro-Pain
Bark

Saturday 11/08
Prison Stage
Limp Bizkit
Dimmu Borgir
Epica
Phil Campbell and the bastard sons
Mr Big
Battle Beast
Armored Saint
Fozzy

The Swamp
Ufomammut
Satyricon
Devildriver
Municipal Waste
Solstafir
Orange Goblin
Act of Defiance
Crisix

Sunday 12/08
Prison Stage
Helloween Pumpkins United
In Flames
Behemoth
Alestorm
Sepultura
Inglorious
Orden Ogan

The Swamp
Ministry
Cannibal Corpse
Alcest
The Black Dahlia Murder
Primordial
Exhorder
Gruesome
Pestilence

More bands will be announced soon!
Sorry, no results found for 'Alcatraz Hard Rock & Metal Festival'
Browse by Category