Todrick Hall Tickets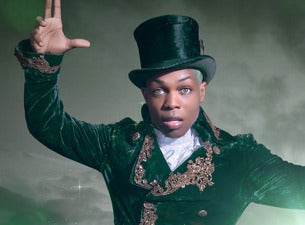 Todrick Hall comes in Belgium with his "Straight Outta Oz Tour. The massive Tour will visit more than forty cities in both America and Europe, kicking off end march to end early June. A show is scheduled at La Madeleine in Brussels on 25th May.

Todrick Hall has everything to become a Star. He became a true phenomenon due to unconventional path, enormous talent and much determination.
He rose to prominence when he auditioned for the ninth season of American Idol, where he made it to the semi-finals. Since then, the young texan didn't stop develop his own universe, right out of his idols. Todrick Hall is undoubtly a talented singer, but he is also an actor, dancer, choreographer, and director.
His carreer started through this very last aspect. He released a series of video clips through Youtube, all dedicated to his musical idols. The vids went quickly viral to the point his Youtube page today counts more than 400 million views, and fans such as Beyoncé. One of the most iconic videos is undoubtly "Straight Outta oz", a 1-hour long visual album, directed and starred by the artist himself. The epic video is a reinvention of "The Wizard of Oz" Classic for which Todrick whom his admiration knew no bounds. He released no less than 16 video clips in 2 weeks to promote the album, all through Youtube channel. The album presents a young dreamer's journey in quest for hapiness in the big city of Oz Angeles. He starred in his own MTV documentary series, "Todrick", and released commercials for which he also composed the music.
Since November 2016, Hall assumed the lead role of Lola in the Broadway musical Kinky Boots
Before hitting the NY stages, the "Yellow Brick Road" is bringing him on tour to present "Straight Outta Oz" to the world.
Sorry, no results found for 'Todrick Hall'
Browse by Category