The Art of Banksy Tickets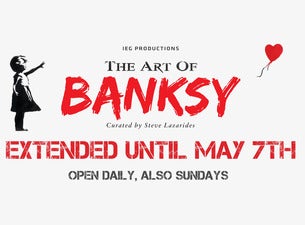 Following the big success of the exhibition, we are glad to announce that The Art of Banksy exhibition will now be extended until May 7th! The work of the world's most famous – or most notorious – street art artist has been brought together by the artists' former manager Steve Lazaridis

Bringing the historic streets of London to the steps of Antwerp, the exhibition will take visitors on a sort of journey, exploring the questionable genius of the world's most infamous street artist with a retrospective of over 80 of the artists' off-street masterpieces. Most famously known for his stenciling technique, Banksy's artwork combines dark humor with underlying political messages and social themes, which have made him one of the biggest contemporary artists of our time.

More than eighty works by the controversial artist will be shown in high-tech display installations in The Art of Banksy. The works come from Lazarides's own collection and other private collectors. All pieces included in The Art of Banksy exhibition are original works and limited edition screenprints by Banksy himself, which are all unique in their form. The Art of Banksy explores the enduring relevance of Banksy's work outside its original context and provides considerable food for thought

What the exhibition does not do is reveal who or what Banksy is. Is he a lone artist? Is it a collective? These are questions that have intrigued the art world since the early 1990s. How does the British Banksy manage to pop up all over the world and rock the establishment with the humorous, politically-slanted and sometimes provocative works he places in public spaces? Generally by using stencils to spray images and messages on walls, but also by hanging his own works in museums under the curators' noses, as he did in the Metropolitan Museum of Art in New York and the British Museum in London.
Sorry, no results found for 'The Art of Banksy'
Browse by Category