Opera Heroes Tickets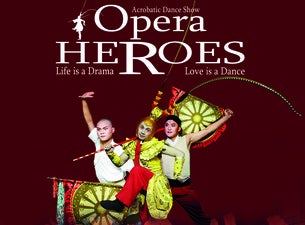 As part of their forthcoming European Tour, Incredible chinese troupe Opera Heroes will stop in Brussels for two dates on 26th and 27th May.

"Opera Heroes", formerly known as "Opera Warriors", is a masterpiece of Chinese dance drama like it was never seen in Europe before. The more than 50 dancers of the Huajin Dance Drama Star-Ensemble of the Shanxi Academy of Arts will enchant in summer 2017, after its acclaimed performances in Sydney Opera House and Vancouver Queen Theatre, the audience in Brussels, Geneva and Frankfurt with a highly theatrical mix of Peking Opera, martial arts, acrobatics, traditional Chinese dance as well as modern dance – a fascinating fusion of Chinese traditional culture and contemporary cultural developments.

"Opera Heroes combines the distinguished acrobatic and cultural traditions of China with the intensity and melodramatic art of Western musical blockbusters like Les Miserables and Cats, says Zhang Yu, the chairman and president of the China Arts and Entertainment Group, which is booking the troupe throughout the world thanks to the Chinese Cultural Exchange Program.
Sorry, no results found for 'Opera Heroes'
Browse by Category