Nico & Vinz Tickets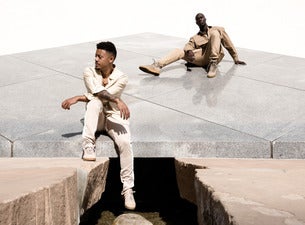 Norwegian Pop duo Nico & Vinz will play this winter at The Madeleine in Brussels.
Their latest single "Intrigued" was released in June 2017.

Nico & Vinz duo consists of Nico Sereba and Vincent Dery, two young musicians from Oslo, Norway. Their carreer starts in 2010 under the name Envy. They eventually release the The Magic Soup & the Bittersweet Faces album, that reaches VG-lista, the Norwegian albums chart. Following their duo name change in 2012, they release "Am I Wrong", the single that will make them famous. The track has been listened more than 420 million times on Spotify only.
In october 2014, they bring out their first album, Black Star Elephant, which receives a warm welcome. They eventually go on tour with Usher and Bruno Mars, and release the single "That's How You Know" with Bebe Rexha et Kid Ink. In 2017, the duo releases the four-track Elephant In The Room EP, very representative of their image : a mix of Pop, Rock, and Urban Music.

Nico & Vinz were voted Best New Artist at the Soul Train Awards in 2014, the European Border Breakers Award (EBBA) at Eurosonic Festival, and Spellemann Award of the Year in 2015.


9 Events for Nico & Vinz
9 Events
Events in

Belgium

(1)
Nico & Vinz and Six 60

Mon

20:00
International events
International
(8)
Nico & Vinz (NO)

Thu

21:00
Nico & Vinz + SIX60

Fri

21:00
Six60 & Nico & Vinz

Tue

20:00
Nico & Vinz and Six 60 (New Waves World Tour)

Thu

19:00
Nico & Vinz and Six 60 (New Waves World Tour)

Fri

19:30