Lollapalooza Tickets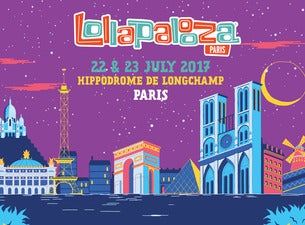 Red Hot Chili Peppers, The Weeknd, Imagine Dragons, Lana Del Rey and DJ Snake will lead the lineup for the first-ever Lollapalooza Paris, taking place July 22nd & 23d at the Hippodrome de Longchamp of Paris.

The stellar inaugural lineup also includes London Grammar, Alt-J, Pixies, The Roots, Marshmello, Liam Gallagher, The Hives, Martin Solveig, IAM, La Femme and many more, with over 40 artists performing on four stages.

Fans will be able to experience all that Lollapalooza has to offer, with a diverse lineup, a wide variety of French cuisine, art exhibitions, and a space dedicated to music fans that want to learn more about how to help the world around them.

Lollapalooza welcomes music fans of all ages, including kids. Kidzapalooza is a festival within a festival offering parents and kids the opportunity to catch family-friendly music on its own stage plus various activities including creating their own music, arts & crafts and much more.

Lollapalooza is pleased to announce Paris as the latest addition to its expanding global family, joining successful international editions in Chile, Brazil, Argentina and Germany. Lollapalooza celebrated its 25th Anniversary in Chicago in 2016, delivering 170 bands on 8 stages to 400,000 fans over 4 days.

Children ages 10 and under may enter Lollapalooza free of charge, with a ticketed adult.
14 Events for Lollapalooza
14 Events
International events
International
(14)
Lollapalooza Paris - Kidzapalooza 2 Jours -14Y

Sat

10:00
Lollapalooza Paris - Pass 2 Jours

Sat

10:00
Lollapalooza Paris - Kidzapalooza Samedi -14Y

Sat

12:00
Lollapalooza Paris - Samedi

Sat

12:00
Lollapalooza Paris - Samedi

Sat

12:00
Lollapalooza Paris - Samedi VIP

Sat

12:00
Lollapalooza Paris - Dimanche

Sun

12:00
Lollapalooza Paris - Dimanche Platinum

Sun

12:00
Lollapalooza Paris - Dimanche VIP

Sun

12:00
Lollapalooza Paris - Kidzapalooza Dimanche -14Y

Sun

12:00
LOLLAPALOOZA Berlin 09. & 10. September 2017
Lollapalooza Berlin PLATINUM TICKET 09. & 10. September 2017
Lollapalooza Berlin VIP TICKET 09. & 10. September 2017
Lollapalooza Berlin VIP | Platinum UPGRADE (without Ticket)