Harry Potter Tickets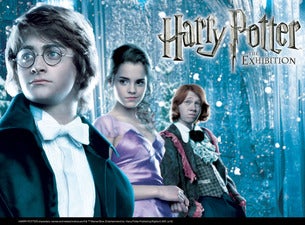 Harry Potter™ fans in Belgium will have one last chance to step inside the famous wizard's world this winter. Harry Potter™: The Exhibition will extend its stay in Brussels until the 8th of January with a selection of exciting new props and costumes as well as Christmas décor. The exhibition has welcomed more than 300,000 guests since it opened in Brussels on June 30.

New to the exhibition this winter is a brand new vignette of props and costumes from Warner Bros. Pictures' highly anticipated Fantastic Beasts and Where to Find Them™, which marks the screenwriting debut of J.K. Rowling. Fans will also get the chance to see two iconic props: On display for the first time in Brussels, the Flying Ford Anglia from Harry Potter and the Chamber of Secrets™ and the giant Knight Chess Piece, which was ridden by Ron Weasley in Harry Potter and the Philosopher's Stone™. To top it off, the exhibition will also be decorated for Christmas, complete with falling snow at Hogsmeade Station.
71 Events for Harry Potter
71 Events
International events
International
(71)
Harry Potter™: The Exhibition

Sat
Harry Potter™: The Exhibition

Sun
Harry Potter™: The Exhibition

Mon
Harry Potter™: The Exhibition

Tue
Harry Potter™: The Exhibition

Wed
Harry Potter™: The Exhibition

Thu
Harry Potter™: The Exhibition

Fri
Harry Potter™: The Exhibition

Sat
Harry Potter™: The Exhibition

Sun
Harry Potter™: The Exhibition

Mon
Harry Potter™: The Exhibition

Tue
Harry Potter™: The Exhibition

Wed
Harry Potter™: The Exhibition

Thu
Harry Potter™: The Exhibition

Fri
Harry Potter™: The Exhibition

Sat
Harry Potter™: The Exhibition

Sun
Harry Potter™: The Exhibition

Mon
Harry Potter™: The Exhibition

Tue
Harry Potter™: The Exhibition

Wed
Harry Potter™: The Exhibition

Thu