Front 242 Tickets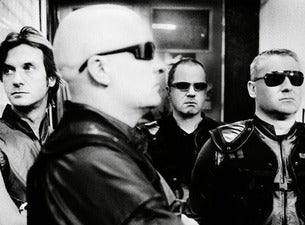 Front 242 is an illustrious Belgian band with worldwide fame. They emerged in the 80s and make electronic music. In their most active period they were an example for other industrial and electronic artists, and the launched the genre Electronic Body Music (EBM) . They are also considered to be the precursors of Techno and New Beat.

Front 242 was founded in 1981 in Aarschot by Daniel Bresanutti and Dirk Bergen. Their first single was Principles. Patrick Codenys and Jean-Luc De Meyer of the group Under Viewer joined them in 1982. The next single 'U-Men' was released in 1982, followed by the first album 'Geography' in 1983. Dirk Bergen left the band in 1983 and was replaced by Richard Jonckheere.

Front 242 then broke through in Belgium, and their next album 'No Comment' was the first under the title Electronic Body Music. They scored their biggest success with the song 'Headhunter' and the accompanying music video, directed by Anton Corbijn. The accompanying album 'Front By Front' is generally considered to be their best.
Sorry, no results found for 'Front 242'
Browse by Category