Alcatraz Hard Rock & Metal Festival
Alcatraz Hard Rock & Metal Festival Tickets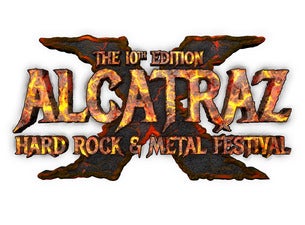 Alcatraz Hard Rock & Metal Festival 2017 on Friday 11th, Saturday 12th & Sunday 13th of August.

The cosiest hard rock & metal festival again takes over the 'holy grounds' of domain Lange Munte in Kortrijk. As it is already the 10th edition of the festival, it promises to be a special one. With 35 bands, 2 stages and a larger camping spot, Alcatraz will be the place to be for all metal & rock lovers!



This 10th edition kicks off on Friday 11th with a marvellous 'Heavy Metal Night'. Five bands will rock the stage during the metal party of the year. When you have bought a combi ticket for the weekend, you can join the party for free.

This year, the Alcatraz festival focusses on diversity, atmosphere & great music for everyone. That is why -as from this edition- there will be 2 stages with both an amazing line-up. The toughest metal bar of the country – El Presidio – will this year also be serving a wide variety of beers and play only the best music in a relaxing setting.

Next to an impressive stage, the VIP area as well is one of the attractions on the festival. With a magnificent view on the main stage, delicious food and a unique experience it is definitely worth considering when you want a weekend to remember! Every visitor will be able to profit from a larger camping spot, a wider food variety and more toilet facilities.

Enjoy 3 days of pure metal & rock mania during the Alcatraz Hard Rock & Metal Festival 2017!
Sorry, no results found for 'Alcatraz Hard Rock & Metal Festival'
Browse by Category